October 11, 2017
2017 Japanese Language and Culture in Kobe
Image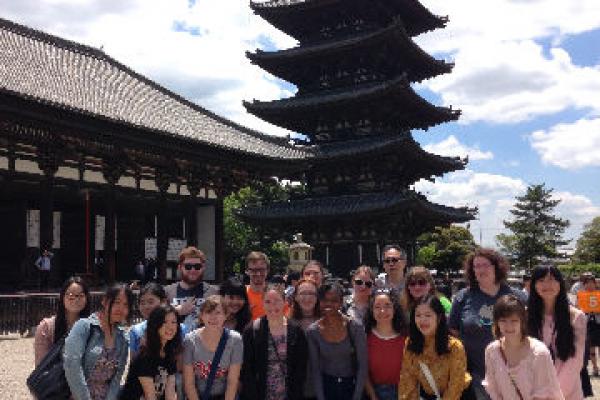 Description
To advance their language and cultural knowledge, eleven undergraduate students journeyed to Kobe Shoin Women's University on the 2017 Japanese Language and Culture in Kobe program from May 10 to June 2. They took full advantage of their opportunity to immerse themselves in the language and culture of Japan by conducting research, exploring the Kansai region, and interacting with Shoin students and other Japanese people.
Each student on the Kobe program designed and conducted their own interview-based research project through the EALL 5797 Language and Culture course. Working with students individually and in groups, the Resident Director, Dr. Mineharu Nakayama, mentored the students through the process. Students used and expanded on their Japanese language and cultural skills by interviewing Japanese students and other Japanese people. They explored such topics as how Japanese learn English, gaming habits, the custom of children bathing with their parents, the place of poetry in Japanese life, and the definition of "kawaii" (cute). They presented their research to and hosted a question and answer session in English for Shoin students who are studying English.
The Kansai region where Kobe is located is rich in Japanese history, culture, and traditions. So, students took full advantage of this opportunity to explore the history and culture of nearby cities such as Kyoto, Nara, Himeji, and Osaka. As part of the program, they got to check out a Glicopia factory to see how some of their favorite snacks, Pretzes and Pockies, are made. As the region is famous for sake, they also visited a sake brewery to learn about this uniquely Japanese brewing tradition. Festivals are also an important cultural component in Japanese life. The Kobe program students were fortunate enough to not only experience one festival, but three:  Himeji-matsuri, Danjiri-matsuri, and Kobe-matsuri.
Students also gave back to their host community by assisting with the Kobe Shoin Women's University English conversation meetings and Shoin Junior and Senior High School English classes. They conversed with students in English and even introduced themselves via one of the school broadcasts. Through this experience, they learned firsthand about Japanese junior high, high school, and university life and education.
Although just a few weeks long, students were able to accelerate their language development and deepen their cultural knowledge through this intensive experiential program. The program also had the added benefit of setting a strong foundation for four of the students to continue their in country learning in yearlong programs at Japanese universities.
(reported by Mineharu Nakayama, Resident Director)
---