May 29, 2019
2018-2019 "EASC expOSUre" now available
Image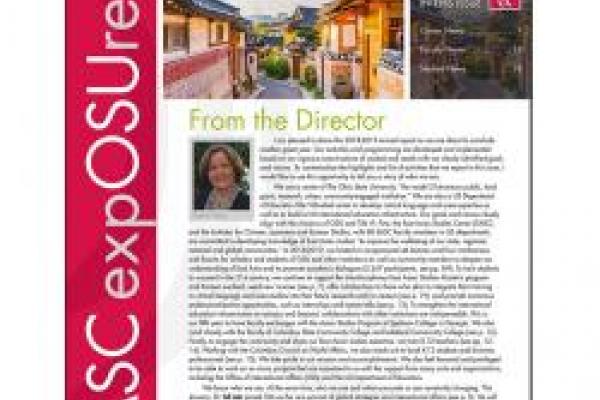 Description
The East Asian Studies Center invites you to view the electronic publication of the Academic Year 2018-2019
EASC expOSUre
newsletter. You can access the newsletter
here
. This issue includes columns from the EASC, ICS, IJS and IKS faculty directors, updates on leadership transitions, faculty and student news, as well as the following feature articles: 
Focus on curriculum and material development: Read about EASC-developed video modules on East Asian history and Chinese name pronunciation available on YouTube as well as two new courses launched by EASC and partners, "Professional Japanese Interpretation" and "The Korean War."
Focus on academic programming: EASC and the institutes' 48 lectures, conferences, and performances are listed. In addition, ICS's efforts to foster student success through graduate forums are highlighted, while IJS's Rakugo performance, IKS's lecture by the Consul General of the Republic of Korea, and ICS-OCAPA lectures are featured.
Focus on outreach: Read about EASC's efforts to reach teachers, business leaders, students, and the community through our various outreach events and projects, including "Bringing Korea into the Classroom" workshops for 6th-12th grade teachers. EASC's efforts to open access to Japanese language evaluation and certification and EASC's vibrant partnership with the Columbus Council on World Affairs are discussed.
Faculty news: Faculty publications, promotions, and awards are listed, including the recipient of the first OIA Area Studies Center Conference Grant competition led by EASC.
Student news: EASC fellowship and scholarship recipients are announced.
We hope you enjoy reading about these topics as much as we enjoyed featuring them in this latest issue of EASC expOSUre. Enjoy!
---