February 2, 2017
Jazzed About Japanese: Cameron Clark
Image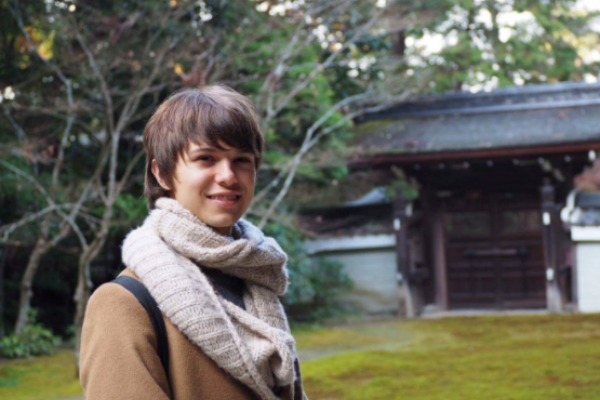 Description
Alumnus
B.A. in Japanese
B.A. in Arts Management
What is your current job title and responsibilities? How do your Japanese skills help you in your daily work tasks?
I am a copywriter and editor, working in the Global Marketing and Communications department of a company in Tokyo. I have three different roles. The first is editor of the company's internal magazine, which is read by employees of our Group companies in ten different countries. Since our editorial staff is small, I was immediately required to take on full editorial responsibilities, including contributing to articles, revising content, and communicating with the design team. On top of this, I write original copy, as well as translate copy from Japanese to English, for web and print. My third role, which I will be starting this month, is assisting in the organization of overseas exhibitions and trade shows. Since it is a Japanese company and almost all of my colleagues are Japanese, most of my work is carried out in Japanese. 
What helped you determine your interest in learning Japanese, especially at a collegiate level?
I always wanted to experience living in a foreign country. A big part of gaining the courage to do it was participating as a member of the Japanese Student Organization (JSO) at Ohio State for four years. A lot of my best memories from college were experiences from JSO. Of course, the patience and care of all the Japanese professors at Ohio State was phenomenal, and it was their support that allowed me to progress and achieve my goals. 
Did you study abroad as a student? If so, how did it benefit your language skills?
Yes! I studied for one year at International Christian University in Tokyo. I also spent a year in the Japanese countryside as a foreign exchange student in high school. Study abroad is, of course, very helpful for improving one's language skills. But it is also so important to live life in the context of another culture.  Living among people of another culture, and understanding what it feels like to be foreign, will give you insight that is absolutely critical in this day and age.    
In addition to helping you build a career, how has your knowledge of Japanese influenced you?
Japanese language, life, and culture have had such a profound impact on me, that it would be impossible to describe what I have gained without giving my life story! Without Japanese, I would not have been able to know my closest friends, read the books that have inspired my life's direction, or visit the places that have changed my values and perspective for the better.  
What advice do you have for students hoping to utilize foreign language skills as they enter the professional world?
Like many things, I think the biggest barrier for language students is intimidation. With Japanese, the unfamiliar grammar, structure, and complex writing system can be daunting. However, being in a room of native speakers and not having a clue what is happening, giving a speech in a foreign language in front of a distinguished panel, and dropping in on a culture organization's meeting, when everyone seems to know each other, can be ten times more frightening. My advice would be to embrace this discomfort. You will not only improve your language skills, but you will become a stronger person.
The Ohio State University's East Asian Studies Center (EASC) and Institute for Japanese Studies (IJS) support students studying the Japanese language at Ohio State, offered through the Department of East Asian Languages and Literatures. EASC offers Foreign Language and Area Studies (FLAS) fellowships to undergraduate and graduate students who study Less Commonly Taught Languages (LCTL), as well as a Master of Arts (M.A.) program to students who want to continue their language and regional area studies after obtaining a bachelor's degree. Lectures, conferences, workshops, and symposia on Japanese studies related topics are hosted frequently by EASC and IJS.
This story originally appeared on Hagerty Happenings.
---