Body
th North American Conference on Chinese Linguistics (NACCL-30), organized by DEALL faculty members Zhiguo Xie and Marjorie K.M. Chan with financial and manpower support from many OSU units, staff members, and students, took place on March 9 to 11, 2018 at The Blackwell Inn and Pfahl Conference Center. The conference was preceded by two workshops on data collection and corpora, organized by Professor James H-Y. Tai (National Chung Cheng University) and Professor Hongyin Tao (University of California, Los Angeles). More than 180 scholars from 13 countries and regions (USA, Canada, Mainland China, Taiwan, Hong Kong, Macau, South Korea, Russia, England, Germany, Spain, Japan, and Australia) attended the whole event.  The 30
With the conference theme of "Chinese Linguistics: From the field, from the lab, and from the armchair," NACCL-30 featured four keynote speeches delivered by Professors Mary Beckman (Emeritus, OSU), James H-Y. Tai (National Chung Cheng University), Professor Chu-Ren Huang (Hong Kong Polytechnic University), and Professor Zhuo Jing-Schmidt (University of Oregon), as well as more than 100 presentations in the 30 regular sessions. The talks dealt with over 10 languages and dialects in China and covered almost all sub-fields of Chinese linguistics.
Mari Noda has a new publication from Routledge. Action! Japan: A Field Guide to Using Japanese in the Community is a practical guide for intermediate to advanced students of Japanese wanting to maximize their study abroad experience and enhance their language skills. This is  a collaborative work with Yui Iimori Ramdeen, Stephen D. Luft, and Thomas Mason, Jr.
Mineharu Nakayama Published Studies in Chinese and Japanese Language Acquisition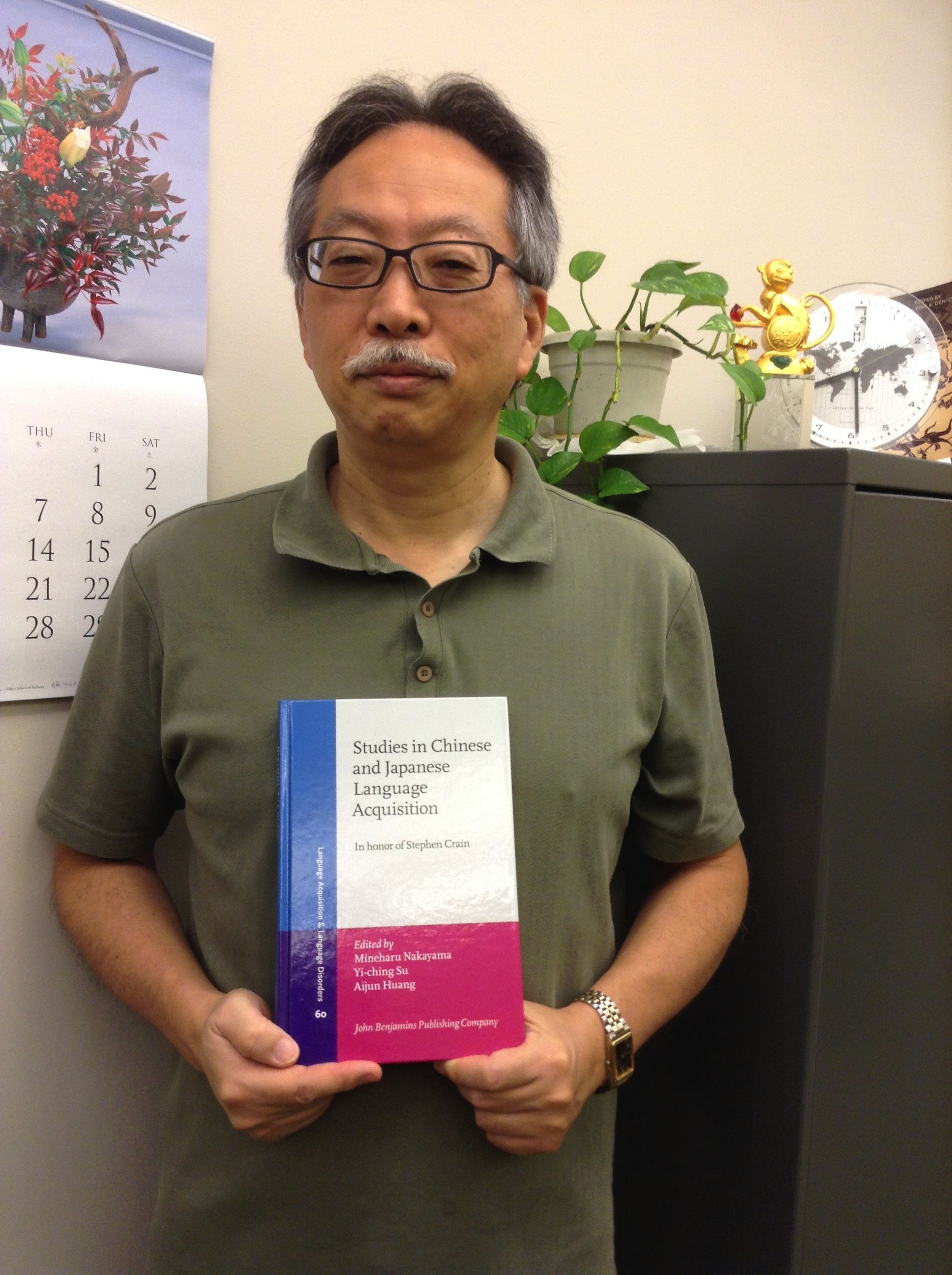 Mineharu Nakayama, DEALL professor of Japanese linguistics, has just published Studies in Chinese and Japanese Language Acquisition (John Benjamins, 2017), a coedited volume with Yi-ching Su and Aijun Huang honoring Stephen Crain, a leading figure in the study of child language acquisition from a theoretical linguistic perspective (a Fellow of the Academy of Social Sciences in Australia and a Macquarie University Distinguished Professor). The book includes contributions from his former students, friends, and colleagues who discuss experiments with the Truth Value Judgment Task (TVJT), one of his methodological inventions, on three syntactic and semantic domains: binding, scope interaction, and wh- and logical expressions. The book is a state-of-the-art collection that offers a picture of cutting-edge research on children's and adult's Chinese and Japanese language acquisition.
Denton publishs Jottings under Lamplight
Kirk Denton, DEALL professor of Chinese literature, has just published Jottings under Lamplight (Harvard University Press, 2017), a collection of English translations of the essays of Lu Xun that he coedited with Eileen J. Cheng. Lu Xun (1881–1936) is widely considered the greatest writer of twentieth-century China. Although primarily known for his two slim volumes of short fiction, he was a prolific and inventive essayist. Jottings under Lamplight showcases Lu Xun's versatility as a master of prose forms and his brilliance as a cultural critic with translations of sixty-two of his essays, twenty of which are translated here for the first time. Tinged at times with notes of despair, yet also with pathos, humor, and an unparalleled caustic wit, Lu Xun's essays chronicle the tumultuous transformations of his own life and times, providing penetrating insights into Chinese culture and society. 
Bender publishes The Borderlands of Asia
Mark Bender, chair of the Department of East Asian Languages and Literatures (DEALL), has just published The Borderlands of Asia: Culture, Place, Poetry  in the Cambria Sinophone World series of innovative Cambria Press. Introduced by Bender, the volume features translations and original works by 48 poets from the borders of China and India, including Northeast India, Myanmar, Southwest China, and Mongolia. Bender worked with a cohort of native poets in editing and translating the poems languages including Khasi, Burmese, Nuosu (Yi), Chinese, and Mongolian. The major themes are cultural and ecological change in the contemporary world.  Prof.  Joni Adamson, an eco-literary critic from Arizona State University, notes on the back cover, "In the spirit of myth, these poets introduce to us entangled worlds, from the microscopic to the planetary. They reveal a cosmos of intimate relations between animals, plants, landscapes, and waters and urge us to be cautious of all life on the planet .. a sparkling cosmography…"  Bender personally visited all of the areas represented in the book, drawing on local contacts, often many years in the making. Asian Borderlands reflects the growing interest of the OSU community in global/local issues of environmental change and its far-ranging effects.
Denton's Crossing Between Tradition and Modernity
DEALL is pleased to announce that Prof. Kirk A. Denton's edited book,
Crossing Between Tradition and Modernity: Essays in Commemoriation of Milena Doležalová-Velingerová
(1932-2012) (Prague: Karolinum Press, 2016) has been published.
Crossing Between Tradition and Modernity
presents thirteen essays written in honor of Milena Doleželová-Velingerová (1932–2012), a member of the Prague School of sinology and an important scholar of Chinese literature who was at the forefront in introducing literary theory, and theoretical rigor, into sinology. Doleželová-Velingerová was that rare scholar who wrote with equal knowledge and skill about both modern and premodern Chinese literature. The essays emulate Doleželová-Velingerová's scholarship in terms of treating a broad range of historical periods, literary genres, and topics—from Tang travel essays to cultural identity in postcolonial Hong Kong. Organized into two parts, "Language, Structure, and Genre," and "Identities and Self-Representations," the essays are motivated by an abiding concern with issues of language, narrative structure, and the complex nature of literary meaning that were at the heart of Doleželová-Velingerová's work.
Professor Nakayama on Japanese Linguistics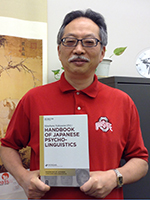 DEALL is excited to announce that Prof. JJ Nakayama has published an important work in Japanese Linguistics, demonstrating once again DEALL's strength in East Asian Linguistics. The Handbook of Japanese Psycholinguistics, is Volume 9 of the Handbooks of Japanese Language and Linguistics series (12 volumes in total) that the National Institute for Japanese Language and Linguistics and De Gruyter Mouton jointly produce. Read More [pdf]
 
A Korean performance.
DEALL Chinese MA students visit the Chinese Consulate in NY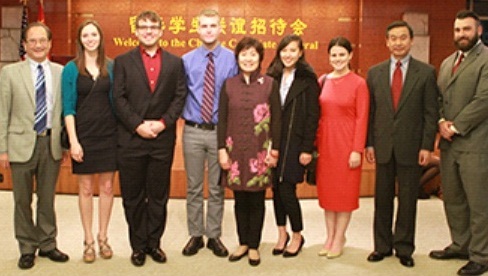 Students from the 2015-2017 Advanced Chinese Language and Culture Program (aka Midwest U-China Flagship Program) were invited by the Chinese Consulate General of the People's Republic of China in New York City to attend the "Sino-US People-to-People Exchange Day" on November 13th, 2015. At the event, students and diplomats spoke about their experiences studying Chinese language and culture. The night began with performances including OSU's Lydia Simon, who sang a Chinese song.
Professor James Ungers newest Book

Prof. James M. Unger Publishes
Sangaku Proofs: A Japanese Mathematfalseician at Work
in the esteemed Cornell East Asian Series on a homegrown tradition of Japanese mathematics known as wasan. The tradition evolved separately from mathematical advances in Enlightenment Europe. The book includes twenty-six related problems as analyzed by Aida Yasuaki (1747-1817), one of the practitioners of the tradition. The examples are explained by Unger as they were present by Aida, thus giving insight into this aspect of Japanese cultural history. Prof. Unger, a former DEALL chair, has published numerous books and articles during his tenure in DEALL. Among his books are
The Fifth Generation Fallacy
and
Literacy and Script Reform in Occupation Japan
.
Mark Bender Presentation

Prof. Mark Bender, chair of the Department of East Asian Languages and Literatures (DEALL), presented a paper at the Maulana Abul Kalam Azad Institute of Asian Studies (MAKAIAS), in Kolkata, India on January 8, 2015. The institute, devoted to cultural issues in India and Asia, was opened on its present site in the Salt Lake district in 2009. The conference was organized by Dr. Sreeradha Dutta, director of the institute, and Dr. Nandini Bhattachaya Panda. It was entitled "North East India in the Cultural Imaginations: History, Land and People." Summary of Mark Bender's presentation [pdf]
Professor Patricia Sieber Publishes

Prof. Patricia Sieber publishes "Nobody's Genre, Everybody's Song: Sanqu Songs and the Expansion of the Literary Sphere in Yuan China" in the inaugural issue of the Journal of Chinese Literature and Culture (jointly sponsored by Beijing University and University of Illinois, Urbana-Champaign and published by Duke University Press). That same month, Cambridge University Press brought out one of its signature histories, The Cambridge History of Gay and Lesbian Literature, which, among other contributions, featured an essay by Prof. Patricia Sieber entitled "The Crucible of Space, Time, and Words: Female Same-Sex Subjectivities in Contemporary Chinese-Language Contexts."
2014 Buckeye EA Linguistics Forum A Great Success

On a gorgeous sunny day of the 24th October, 2014, over 70 people gathered at the Mershon Center on The Ohio State University campus in Columbus, Ohio, to participate in a very successful inaugural event, the 2014 Buckeye East Asian Linguistics (BEAL) Forum. Throughout this one-day event, the attendees engaged in lively discussions with presenters on a wide range of topics related to East Asian Linguistics (full text [pdf]).
Mark Benders Presentation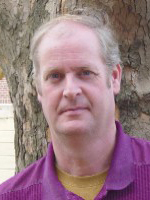 Mark Bender, Chair of DEALL, gave papers at two events on epic poetry in Beijing China the week of November 12-15, 2014. His first paper, dealing with Chinese ethnic minority epic, was entitled, "Strategies for Supporting References to Folk Material Culture and Imagery of the Environment in Yi and Miao Epics." It was presented at The 6th IEL (Institute of Ethnic Literature) International Seminar on Epic studies and Oral Tradition Research, which is a workshop involving young folklore scholars from all over China, sponsored by the Chinese Academy of Social Sciences. The paper stressed the need to create digital image banks of all aspects of material culture and the environment mentioned in and associated with epics and other folk literature. The second, which was an exploration of oral-connected literature and cultural remembering, compared aspects of a recent tri-lingual version of oral epics of the Hmong/Miao of Guizhou, China with Potawatomi writer Simon Pokagon's bilingual Queen of the Woods. The paper was titled "Monument and Memorial: The Case of a Miao Epic from Southeastern Guizhou," and discussed how oral-connected literatures are utilized as cultural monuments to languages and oral traditions perceived as threatened. It was presented at The CASS (Chinese Academy of Social Sciences (2014-Literature) Epic Tradition in Modern Society Conference. Other papers presented by well-known scholars from a host of countries covered epics and oral narratives from these groups: Mongolian, Tibetan, Indian, Turkish, Armenian, Persian, Uygur, Moluccan Exhile Community in the Netherlands, Yi, Kirgiz, and "Modern European Societies." The event was co-organized by the International Society for Epic Studies (ISES), founded in 2012. Epic poetry is a living tradition in China's borderlands and other areas of Asia. These conferences are excellent examples of how China (in this case, the Ethnic Literature Institute of the Chinese Academy of Social Sciences), is stepping up to host international conferences on themes related to folklore and folk literature. Bender also presented a paper entitled "Young Adults and the Folklore Transmission Process in Contemporary China," at the American Folklore Society annual Meeting in Santa Fe, November 7, 2014.
DEALL Grad Students in Chinese Literature Publish Translations of Chinese Ethnic Minority Poetry

Students in a recently offered DEALL graduate level course entitled "Ethnic Literature in China" worked with Prof. Mark Bender to translate and publish a ground-breaking collection of poems by contemporary ethnic minority poets writing in China today. Entitled "A Suite of Poems from the Borderlands" the feature appeared in the latest issue of Chinese Literature Today (Vol. 4, No. 1), a cutting edge journal devoted to contemporary Chinese writing published by University of Oklahoma Press. The translated poems were composed by Aku Wuwu, Altai, Asu Yue'er, Baoyinhexige, Burao Yilu, Mushasijia Eni, Lu Juan, the late Ma Deqing, Mo Du, Qiangrenliu, Sha Ma, and Yangzi, who are poets of the Yi, Mongol, Hani, Wa, and Qiang ethnic minority groups who populate China's vast borderlands. As is typical of most minority poets in China today, all of the poems (with one exception) were written in Standard Chinese. The translators included Mark Bender, Lulei Su, Alexandra Draggeim, Jia Shi, Sheng Qu, and Wenyuan Shao.
Alumnus Jared Psigoda on 2014 Forbes China 30 under 30 list
2014 Forbes China 30 under 30 list

"I chose Ohio State because it was close to home, but it enabled me to reach further in distance and aptitude. After studying one year of Chinese at Ohio State, my instructors recommended me to participate in an elementary study abroad program in Qingdao. I participated in the Chinese Flagship Program's study abroad portion which included both language-focused classes as well as normal Chinese graduate course study where we were allowed to choose which subjects we wanted to study. I also participated in several internship programs arranged by Ohio State, the most memorable of which was my volunteering with the Qingdao Olympic Committee for the sailing portion of the 2008 Olympic Games in Qingdao." (full text)
Never too Late to Study Chinese

Ten years ago, Karen Mancl, Professor Food, Agricultural and Biological Engineering enrolled in Chinese 101, attending classes everyday with a group of undergraduates. Her hours of study and preparation began paying off just 2 years later when she made her first trip to China and was able to make short, technical presentations in Chinese. Being able to communicate in the culture made all the difference - doors kept opening! By gaining language skills, she is able to work in rural China where few people speak English. With the Shandong Academy of Agricultural Sciences, she is now transferring environmental technology to rural China. In 2010 she graduated with an MA in East Asian Studies. (full text [pdf])
A Successful China Gateway 2014 Study Abroad in Chengdu

The OSU China Gateway Study Abroad held its fourth successful study abroad trip to Chengdu, Sichuan province in May 2014. Thirteen OSU undergrads from a variety of majors accompanied DEALL Chair Mark Bender on the month-long trip in cooperation with Prof. Luo Qingchun (aka indigenous poet Aku Wuwu), Dean of the Yi Studies Institute of the Southwest University for Nationalities (SWUN). The focus of the program was ethnicity and the environment. Due to its mix of many ethnicities and local cultures as well as being a "bio-diversity hotspot" Sichuan province is an ideal location for the program. OSU students were paired with 13 SWUN students, all of whom were members of the Yi (Nuosu) ethnic minority group. The students attended lectures together on campus and took numerous field trips together to sites such as the ancient Dujiangyan Hydrolic engineering site, the Panda Breeding Research Center, the giant Leshan Buddha, and scenic Mt. Emei. One week was spent in the upland regions of southern Sichuan, where the students had cultural exchanges at the Chaojue County No. Middle School.
DEALL is pleased to announce the publishing of Studying in China: A Practical Handbook for Students, by DEALL lecturer Patrick McAloon, PhD. This book helps prepare students for their first trip to China by introducing the country and its people, different kinds of programs available, and how to get the most out of the experience, both as a traveler and as a student. Available from Amazon.com and from Foreign Language Publications in Hagerty Hall 198, this book is appropriate for students, their parents, and for group leaders also preparing for their first trip to China.
Mark Bender Lectures on Appalachian Culture in China and Seeks Poets in Myanmar (Burma)
DEALL Chair, Prof. Mark Bender, travelled to China and Myanmar (Burma) on a two week trip from July 24 to August 7, 2014. Bender's first stop was Shanghai, China, where he gave lectures on Appalachian Material Culture in a symposium on folklore and material culture sponsored by East China Normal University. Bender was invited by Prof. Tian Yaoyuan and Prof. Wang Junxia (OSU visiting scholar, 2010). Bender gave nine hours of lectures on quilts, log cabins, Kentucky rifles, baskets, and other aspects of material culture in the Appalachian regions of Ohio and nearby regions in West Virginia and Kentucky. Over 50 folklore students (mostly young women grad students and junior faculty) from all over China were in attendance. The students were especially touched by the quilting traditions in Holmes County, Ohio.
After three days in Shanghai, Bender flew to Kunming, capital of Yunnan province in China's southwest. He met briefly with several academics and poets, including Prof. Li Ying and Prof. Yue Ding in Yunnan University for Nationalities (Yunnan minzudaxue). He discussed with them plans for a book he is editing on poetry from China's western borders, which will include contemporary poets from southwest China, Inner Mongolia, Mongolia, North East India, and Myanmar. The theme is that of poems reflecting contemporary ecological and social changes in the region.
The next day Bender flew into Mandalay, the second largest city in Myanmar, located on the Irawaddy River plain. Bender's main goal in visiting Mandalay was to meet with local Burmese poets and generate interest in his book project. With the help of kokothett, a Burmese poet residing in Europe, Bender met four poets in Mandalay, including the "kingpin" of the younger local poets, Min NadiKha. Taking tea in a sprawling open air canteen, Bender and the poets discussed the book project and how the Burmese poets might contribute. Another objective of the trip was to soak up as much local culture as time permitted, as a basis for understanding the regional poetry.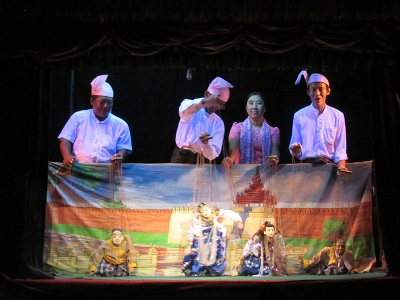 Bender's small hotel (with a wonderful staff) was located at one corner of the gigantic imperial palace, built in the mid-19th century, which is surrounded by a huge moat a mile long on each side. The palace lies beneath the Buddhist temples on Mandalay Hill, from which one can view mountains to the east and the expansive river plain to the west, dotted with golden spired temples. At the base of the hill lies a stunning collection of over 1,700 stone tablets with the Buddhist sutras inscribed in Pali script, each ensconced in an individual white stupa. Near the gate of Bender's hotel was the Mandalay Marionette Theater, which is devoted to the preservation of Burmese puppet art. Bender spent four evenings in the theater, observing the show and talking with puppeteers. The show consisted of a set of representative performances from traditional stories rich in local folk lore and featuring royalty, imperial messengers, court dancers, a wild alchemist, jungle animals, and the local guardian spirits, the nats. One scene featured a puppet dancing with a human acting as a puppet. This material will be incorporated into Bender's courses on Asian performance traditions.
Two days were also spent on a trip into the Shan State, populated by the Shan ethnic minority group (which has populations in southwest China, called the Dai, and in Thailand). The curving roads led up to the town of Hsi-paw, where Bender spent three days examining the local material culture, traditional markets, and a Buddhist monastery for boys accessed by boat and a trekthrough upland corn fields. On the ride back down to Mandalay, Bender's driver took him to a natural spring which is the site for festive public bathing. Back in the plain, they visited sites on banks of the Irawaddy River and the longest teak footbridge in the world. A highlight was a visit to the Nat Festival, in which thousands of worshippers crowded a small temple to present likenesses of two ancient brothers with offerings of coconuts and bananas, and seek advice from female mediums. The accompanying labyrinth of stalls sold traditional sticky candy, modern and traditional clothing (including the sarong-like longyi), yellow thanaka cosmetic paste made from tree bark which many Burmese women apply to their cheeks as a skin nurturing sun-block, piles of handwoven baskets, and a wide variety of fruit and flowers.
On the return trip through Shanghai, Bender met with Phoebe You and Ruth Lu of the China Gateway Office to discuss future projects in China.
DEALL Ph.D. candidate awarded CCKF doctoral fellowship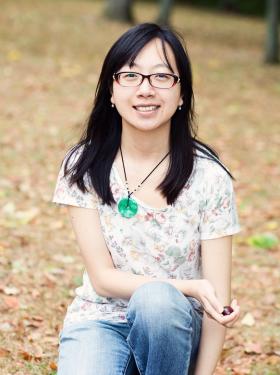 DEALL Ph.D. candidate Qiong Yang was awarded a doctoral fellowship from the Chiang Ching-kuo Foundation in the amount of $15,000 to support the writing of her dissertation, "Mr. Science Goes Popular: Science as Imagined in Chinese Literature and Culture, 1903-1997."
Nine DEALL/China Flagship students receive scholarships to study in China
Eight graduate students and one undergraduate have been awarded scholarships valued at approximately $25,000 each, to study in China. All seven DEALL China Flagship Program graduate students will receive full tuition, living stipend, medical insurance and housing accommodations to study in their areas of interest at top Chinese universities: William (Mac) Carr, Tsinghua University (Beijing), economics and management; Briun Greene, Peking University, business management; Tina Li, Sun Yat-Sen University (Guangzhou), marketing; Mack Lorden, Zhejiang University (Hangzhou), tea; Cassandra Olsen, Peking University, international relations; Nicholas Pochedly, Peking University, business management; Joel Poncz, Sun Yat-Sen University, environmental studies. The program was recently covered in the Ohio State Arts and Sciences newsletter ASCENT. Two additional students awarded scholarships to study in China: graduate student Alexandra Draggeim, Shanghai International Studies University, interpretation and translation; and undergraduate Vycheslav Dade, Fudan University, Chinese language.
Chinese New Year Paintings on Display in Hagerty Foyer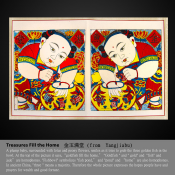 New Year Paintings (nian hua) are the most popular folk art used during the traditional Chinese Spring Festival (Chun jie), which takes place on the first day of the first month of the Lunar Calendar and lasts until mid-month, culminating in the Lantern Festival (Yuanxiao jie). During the Lunar New Year, every household will buy a few paintings. From the front door to private rooms, all are covered with these symbols of wealth and good fortune so as to create a warm, festive, and joyous atmosphere.
Ancient China was an agricultural country. From the time of the harvests and into the New Year, people wished to express their thanks to ancestors and gods in order to receive their blessings. Everyone hopes to lead a happy life of peace and prosperity. In the past, disasters and shortages were attributed to demons and ghosts. New Year Painting was one sort of protection against these negative forces. The earliest such paintings are of "door gods" (men shen) named Shen Tu and Yu Lei (figures in from early Chinese myths) whose pictures were placed on front doors to protect the home. Thereafter, numerous other motifs were developed over time.
As a form of visual folk art, the paintings have developed under the influences of many generations and locales. Besides their ritual purpose, the paintings also function as artistic decorations during the Spring Festival. The themes reflected in the paintings are extremely broad, covering human activity, landscapes, flowers and birds, ancient historical stories, myths and legends, fiction, drama, children, and the all-encompassing realities of life. Once placed on the doors and walls of the home, the paintings remain in place until the arrival of the next New Year.
The New Year Paintings in this exhibit come from important centers of production of the folk paintings in northern China. Some were made in the village of Yangjiabu, Weifang city, Shandong province, and others are from the village of Zhuxianzhen, Kaifeng city, Henan province. Other important centers of New Year painting production are Yangliuqing near the city of Tianjin, and the Taohuawu region in Jiangsu province, China.
All information in the exhibit was collected by Dr. Ji Jun of the Anyang Normal University, Henan Province, People's Republic of China. Dr. Ji is presently a visiting scholar at OSU, invited by the OSU Center for Folklore Studies and the Department of East Asian Languages and Literatures).
"Chinese folk art paintings is a unique art system is Chinese folk precious intangible cultural relics. To some extent, the history of life, beliefs and customs of Chinese society among all concentrated in a small New Year painting." (Exhibit coordinator, Dr. Ji Jun.)
Dr. Mark Bender of DEALL and Dr. Abhijit Varde of the Hagerty Multi-media Lab aided in producing the exhibit.
[Chinese Text]
年画是中国年节中最流行的民俗美术形式。每逢农历新年,家家户户都会买几张年画,从大门到厅房,都贴满了这些象征着吉祥富贵的年画,营造出一种欢乐热烈的节日气氛。
中 国在古代是一个农业国家。在农业收成以后、新年来临之前,人们都要祭祖酬神,感谢祖先和神灵的庇佑和恩泽。他们希冀生活平安美满,而早期人们总是认为灾难 来自于妖魔鬼魅,希望借助巫术的手段来予以驱除,所以古代的新年活动中充满了驱邪纳福的内容。目前所发现的最早的门神像神荼郁垒就具有浓重的驱邪意味,而 年画也由此发展起来。同时,门神也成为中国年画中最重要的品种。年画是中国年节中最流行的民俗美术形式。
年画根植于民间,装饰于节日,在长 期的发展过程中适应群众的审美爱好和需要,成长为一种独具特色的画种。它对于丰富人们的精神生活,反映人们的美好愿望,美化人们的节日环境起着重要的作 用。年画反映的题材极为广泛,举凡人物、山水、花鸟、古代历史故事、神话传说、小说戏曲、婴孩及现实生活等几乎无所不包。年画也以其活泼生动的艺术形式、 强烈明快的色调和富有情趣的情节以及生动的艺术形象而更具欣赏性、娱乐性和装饰性。
本次展出的木版年画以山东潍坊杨家埠年画和河南开封的朱 仙镇木版年画为主,它们与天津杨柳青、苏州桃花坞并称中国四大年画产地。所有的资料搜集来自于纪军博士(河南安阳师范学院,俄亥俄州立大学民俗研究中心与 东亚语言文学系的访问学者)。Mark Bender教授参与策划并全程指导。
感言:
年画是中国民间艺术中的一个独特的艺术体系、是中国民间珍贵的非物质文化遗存。某种程度上,中国社会的历史、生活、信仰和风俗全都浓缩在小小的年画之中。
Chris Lee Korean Performance Research Fund established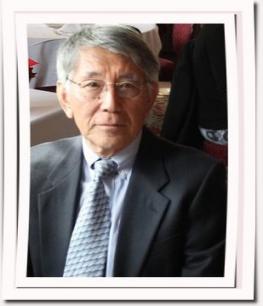 Dr. Chris Lee of Columbus Ohio has donated a generous gift for the establishment of a fund for the creation of an OSU Korean Performance Program in DEALL. Dr. Lee studied medicine at Yonsei University Medical College in Seoul Korea and pursued his career as a Radiologist at Grant Medical Center, Columbus Ohio from 1970 to 2004, then at Ohio State University School of Medicine from 2004 to 2013. Dr. Lee has a profound interest in both traditional and contemporary performance traditions in Korea and Korean communities abroad. Inspired by DEALL Prof. Chan Park's work in promoting Korean culture through research and practice of Korean traditional performance, Dr. Lee has donated funds that will contribute specifically to the building of a program for teaching and staging of Korean cultural performances, interdisciplinary/transnational research, and scholarly exchanges. As a token of appreciation for his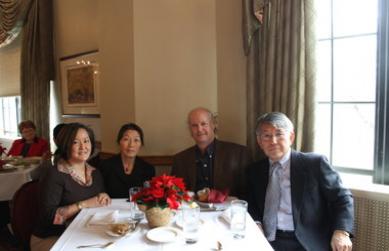 gift, on December 4, 2013, Prof. Mark Bender (DEALL Chair) invited Dr. Lee for lunch at the OSU Faculty Club, accompanied by Prof. Chan Park and Prof. Etsuyo Yuasa (Chair of OSU East Asian Study Center). Korean cultural performances, both traditional and contemporary, have been garnering worldwide attention in recent years along with the Korean Wave. Samulnori folk music and drumming, Pansori style storytelling, the Wonder Girls, and PSY reflect the exciting range of Korean performance.
DEALL Story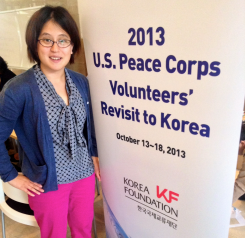 Kristin Krzic is a 2013 OSU grad and member of the International Affairs Scholars Program and Mortar Board Honor Society. She interned at the Institute of International Education promoting Fulbright programs. Majoring in International Studies and Korean, she was awarded the 2012 DEALL Korean Studies Award. Presently, she works in International Admissions at OSU. Sponsored by the Korea FoundationShe had a visit to South Korea in October 2013. Read her story below, or download the story [pdf] with accompanying pictures.
"Most Americans are familiar with the Republic of Korea through either K-pop music, the North-South political issues or the spicy, delicious cuisine. But for me, my awareness and interest grew through Korea's association with the U.S. Peace Corps. My dad, a Returned Peace Corps Volunteer (RPCV), served in Korea in the late 1970's and I grew up looking at pictures of Korea from that time period.
This past October, I had the honor to continue learning about life on the peninsula through a RPCV Revisit Program to Korea sponsored by the Korea Foundation. From October 13 to October 18, fifty-five RPCVs and family members were hosted by the Foundation to reconnect with life in Korea. It was an unforgettable visit that allowed me to see different generations of Koreans and Americans sharing memories and new experiences together.
Peace Corps was in Korea from 1966 to 1981 and many of the RPCVs had not been back to Korea since that time. In fact, a few of the Revisit members were in the first group of Volunteers who came to Korea in 1966! At that time Korea's Per Capita Gross National Income (GNI) was about $254; by 2010 it was about $21,000. The RPCVs marveled at the changes that had occurred in Korea since their time of service.
The highlights of the week were receptions hosted by the Ministry of Foreign Affairs and Trade (MOFAT), visits to the Korea International Cooperation Agency (KOICA) – Korea's version of Peace Corps, overnight site visits to the RPCVs' former schools and health clinics, oral interviews of the RPCVs at the National Museum of Korean Contemporary History, and an afternoon visit to the Korean National Assembly hosted by Speaker H.E. Kang Chang-Hee.
I enjoyed all of the activities. At KOICA, I had the opportunity to speak in front of the RPCVs and KOICA volunteers to describe know how my dad's time in the Peace Corps has influenced my career decisions, especially my current job now working in International Admissions at OSU. I gave the speech in Korean, and although I was nervous at first, the warm welcome by the audience quickly made me feel relaxed. From my visit there, I learned that KOICA is modeled after the U.S. Peace Corps. The Korean government recognized how the assistance from the Peace Corps helped Koreans during a difficult time in their history and now was reciprocating by sending their volunteers to other countries. Many of the KOICA volunteers I talked to were getting ready to go to countries in South America and South Asia.
Each of the RPCVs had the opportunity to re-visit the schools or health clinics where they had served. These re-visits were the perfect opportunity for the volunteers to reconnect with their past students and colleagues. It was a walk down memory lane for the Americans and the Koreans. Many of the volunteers tried to find memorable spots in their former cities. My dad tried to find the boarding house where he used to lived as well as the old roads where he would walk to the school. He took pictures during this trip and matched them with his old photographs taken at the same location. The change was incredible. Instead of the old mud roads and low buildings, there are now concrete roads and tall skyscrapers. It is amazing to see how Korea has become a modern, advanced country in such a short period of time.
At the National Museum of Korean Contemporary History, I was able to participate in a ceremony celebrating the Memorandum of Understanding between the Museum and the Friends of Korea (FOK), the organization that the RPCVs have now formed. In this agreement, the FOK members will donate items to the Museum and work to collaborate on future conferences and presentations. The Museum staff also interviewed each RPCV about their time in Korea. These taped oral interviews will be a part of the Museum's oral history collection.
During the revisit, I was able to meet one Ohio State University Alumnus – Russ Dynes. He had served as a tuberculosis control worker in a rural public health center in Cholla Buk Do from July 1972 to July 1974. His revisit trip to Korea this year was a great experience. He told me that during his revisit to his clinic he found that the personnel and facilities had changed. The clinic was now in a beautiful new facility. He also said that the staff welcomed him like a "lost son who had returned home." Listening to him talk about his time in the Peace Corps in Korea, it was clear that it had a dramatic impact on his life. After Peace Corps, he continued working in health and human services and recently retired from the State of Delaware's Division of Public Health.
By participating in this revisit, it was evident to me that the Koreans and Americans who came into contact through the Peace Corps shared warm feelings and appreciation for each other. The Korea Foundation went to extraordinary lengths to show their appreciation. The receptions not only allowed the RPCVs to meet old friends and colleagues but also to meet influential national figures such as National Assembly Speaker Kang, Deputy Minister of Foreign Affairs, Lee Kyung-Soo, and Kathleen Stephens, former U.S. Ambassador to Korea. Many of the Korean hosts had been taught by Peace Corps Volunteers during the 1960s and 1970s. Ambassador Stephens had been a Volunteer in Korea in the 1970s.
It was touching to see the RPCVs and their Korean colleagues shed tears of happiness when they brought up past memories and met each other after so many years had passed. To me, it showed the strong and deep influence that Peace Corps had on people from both countries. The RPCVs through their organization "Friends of Korea," plan to continue their association with Korea through initiatives such as the Museum Project. Since it is no longer possible for me to go to Korea as a PCV, I did the next best thing -- I became a member of Friends of Korea! If anyone wants to learn more about the revisit, I suggest visiting Friends of Korea. You will be able to understand the warmth of the relationship between Korea and America that was established by the Peace Corps."
---
[pdf] - Some links on this page are to Adobe .pdf files requiring the use of Adobe Acrobat Reader. If you need these files in a more accessible format, please contact deall@osu.edu.