Image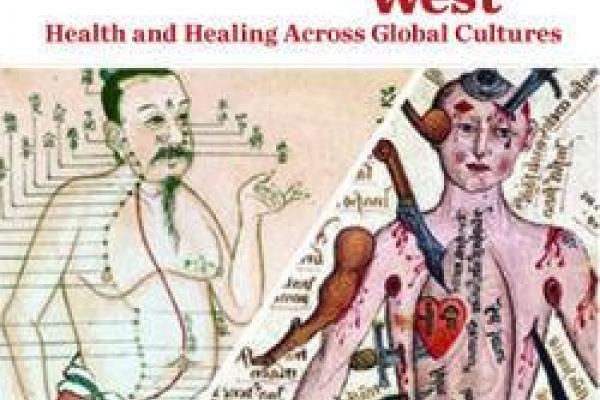 September 28, 2018
9:00AM - 3:00PM
Location
The Longaberger Alumni House (2200 Olentangy River Rd, Columbus, OH 43210)
Date Range
Add to Calendar
2018-09-28 09:00:00
2018-09-28 15:00:00
China Symposium: When East Meets West
Columbus State Community College presentsWhen East Meets WestHealth and Healing Across Global CulturesMorning Session: Materia Medicaa feeling of if: Making stories with Manchu Materia MedicaDr. Carla Nappi - Mellon Professor of HistoryUniversity of PittsbughHerbal Knowledge East and West in the Ancient WorldDr. Maddalena Rumor - Visiting Assistant ProfessorCase Western UniversityAfternoon Sesson: Colonialism & Public HealthCholera and Colonialism: Intersections between Policy, Public Health and Medicine during the Sino-Japanese War (1894-1895)Dr. Roberto Padilla - Associate ProfessorUniversity of Toledo"Another Phillippines Task": U.S. Imperial Health in Haiti, 1915-1934Mathew DavidsonUnversity of MiamiWhen East Meets West Poster.pdfTo register, visit http://humanities-symposium.eventbrite.comFree and open to the public.  Lunch provided with registration.Teachers earn 7.5 CEUs for a $25 registration fee.  See the Humanities Symposium Series website for detailsThis event, organized and hosted by The Humanities Department at Columbus State Community College, and is sponsored in part by a U.S. Department of Education Title VI grant for The Ohio State University East Asian Studies Center. Prof. Carla Nappi to speak on the OSU campus on Friday, Sept. 28:As part of the Institute for Chinese Studies presents "The Centenary of the May Fourth Movement" Lecture Series"A Song Mumbled in My Sleep: Translating a Manchu Trickster Poet"4:00 - 5:30pm, Orton Hall 110 (155 S. Oval Mall)Website: https://easc.osu.edu/events/ics/c-nappi  
The Longaberger Alumni House (2200 Olentangy River Rd, Columbus, OH 43210)
OSU ASC Drupal 8
ascwebservices@osu.edu
America/New_York
public
Date Range
Add to Calendar
2018-09-28 09:00:00
2018-09-28 15:00:00
China Symposium: When East Meets West
Columbus State Community College presentsWhen East Meets WestHealth and Healing Across Global CulturesMorning Session: Materia Medicaa feeling of if: Making stories with Manchu Materia MedicaDr. Carla Nappi - Mellon Professor of HistoryUniversity of PittsbughHerbal Knowledge East and West in the Ancient WorldDr. Maddalena Rumor - Visiting Assistant ProfessorCase Western UniversityAfternoon Sesson: Colonialism & Public HealthCholera and Colonialism: Intersections between Policy, Public Health and Medicine during the Sino-Japanese War (1894-1895)Dr. Roberto Padilla - Associate ProfessorUniversity of Toledo"Another Phillippines Task": U.S. Imperial Health in Haiti, 1915-1934Mathew DavidsonUnversity of MiamiWhen East Meets West Poster.pdfTo register, visit http://humanities-symposium.eventbrite.comFree and open to the public.  Lunch provided with registration.Teachers earn 7.5 CEUs for a $25 registration fee.  See the Humanities Symposium Series website for detailsThis event, organized and hosted by The Humanities Department at Columbus State Community College, and is sponsored in part by a U.S. Department of Education Title VI grant for The Ohio State University East Asian Studies Center. Prof. Carla Nappi to speak on the OSU campus on Friday, Sept. 28:As part of the Institute for Chinese Studies presents "The Centenary of the May Fourth Movement" Lecture Series"A Song Mumbled in My Sleep: Translating a Manchu Trickster Poet"4:00 - 5:30pm, Orton Hall 110 (155 S. Oval Mall)Website: https://easc.osu.edu/events/ics/c-nappi  
The Longaberger Alumni House (2200 Olentangy River Rd, Columbus, OH 43210)
Department of East Asian Languages and Literature
deall@osu.edu
America/New_York
public
Description
Columbus State Community College presents
When East Meets West
Health and Healing Across Global Cultures

Morning Session: Materia Medica
a feeling of if: Making stories with Manchu Materia Medica
Dr. Carla Nappi - Mellon Professor of History
University of Pittsbugh
Herbal Knowledge East and West in the Ancient World
Dr. Maddalena Rumor - Visiting Assistant Professor
Case Western University

Afternoon Sesson: Colonialism & Public Health
Cholera and Colonialism: Intersections between Policy, Public Health and Medicine during the Sino-Japanese War (1894-1895)
Dr. Roberto Padilla - Associate Professor
University of Toledo

"Another Phillippines Task": U.S. Imperial Health in Haiti, 1915-1934
Mathew Davidson
Unversity of Miami

When East Meets West Poster.pdf

To register, visit http://humanities-symposium.eventbrite.com
Free and open to the public.  Lunch provided with registration.
Teachers earn 7.5 CEUs for a $25 registration fee.  See the Humanities Symposium Series website for details
This event, organized and hosted by The Humanities Department at Columbus State Community College, and is sponsored in part by a U.S. Department of Education Title VI grant for The Ohio State University East Asian Studies Center.
 
Prof. Carla Nappi to speak on the OSU campus on Friday, Sept. 28:
As part of the Institute for Chinese Studies presents "The Centenary of the May Fourth Movement" Lecture Series
"A Song Mumbled in My Sleep: Translating a Manchu Trickster Poet"
4:00 - 5:30pm, Orton Hall 110 (155 S. Oval Mall)
Website: https://easc.osu.edu/events/ics/c-nappi
---